I don't really follow Dalrock, a "Christian" blogger who describes himself as a "happily married" family man while pontificating endlessly about divorce and the perfidious, slutty ways of American women (excepting that paragon of feminine virtue, the often-referred-to-but-never-seen "Mrs. Dalrock").
David Futrelle has described him as a "
nitwit with a penchant for pseudoscientific defenses of old-fashioned misogyny," but then, that describes 99% of the manosphere. What distinguishes Dalrock is that his targeting and "slut-shaming" of various young hussies is "justified" by his conservative Christian scruples. Not that there's anything new about that, either. I mean, WWJD? (never mind, let's not go there...)
Mathematically proven to reduce out of wedlock pregnancies,
The auditory equivalent of reading a blog like Dalrock is the whine of a dentist drill, something I'm willing to subject myself to on a strictly "as needed" basis.
I'm an agnostic, or a nominal Christian myself (depending on the day you poll me) and find faith-based arguments about as fruitful and pleasant as repeatedly sticking my wet finger into an electrical socket. Freedom of religion means freedom from religion, thank God the Founding Fathers. And a
lthough I appreciate the pious' concern for the state of my eternal soul, I do wish they'd take my word for it: I'll take my chances.
I am also not very invested in the topics of marriage or divorce, maybe because I have never been married or ever been particularly interested in becoming so. As Groucho Marx once quipped, "Marriage is a wonderful institution, but who wants to live in an institution?" (Marx himself married three times, so he was perhaps not as cynical as that famous quote implies. And that marriage is a socioeconomic contract that benefits many people in many circumstances is patently obvious.) Of course, I may very well change my mind up the road: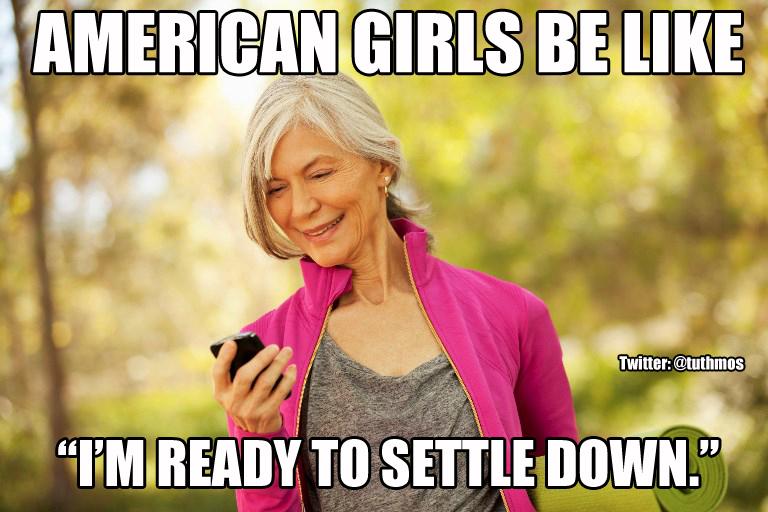 My sentiments exactly!
And I'm a liberal, in the sense that I support every individual's right to organize their personal lives according to their own values, providing their choices do not impinge on the rights of others to exercise the same freedom.
In other words, there isn't much a pompous gasbag like Dalrock has to say that is relevant to me. He is probably younger than I am, yet even in my cataract-clouded eyes, he's a dusty relic.
And last but not least, he simply isn't very amusing. I have trouble following Dalrock because his writing style is so verbose and ponderous. This is a man who takes himself very seriously. (Occasionally he can be oddly inventive: among his contributions to the current vernacular are phrases like "post-marital spinsterhood.") Like most "manosphere" bloggers, he is, in short, an Utter Bore to everyone in the universe except that handful of Angry White Guys who share his particular obsessions and drink from the same wellspring of bitterness... These are the kinds of unlucky-at-love divorcees that, if they corner you at a party, recite variations on the theme "I got the shaft / she got the gold mine" until you are forced to practically chew off your arm to escape.
What I do know about Dalrock -- without even reading him -- is that not only is he a boorish bore, he is a hypocrite of the first order.
Back when I was doxed, Matt Forney tried mightily to make his piece "go viral." The attempt fell noticeably flat. Most of the manosphere studiously ignored it, partly because it (I) wasn't interesting, and partly because most of these pseudonymous bloggers are very leery about publicizing doxings. They know that if they were doxed themselves, they would face the ridicule (at least) or dire socioeconomic consequences (at worst) of being linked to their secret lives online. Being doxed would expose to the world their horrible ideas virulent misogyny, which chances are -- assuming that most of them are functioning in modern society -- is an aspect of their inner psyches carefully cordoned-off from public view.
Not Mister Dalrock! Perhaps he's too arrogant to worry about being doxed. Of course, he's too passive-aggressive to link to Forney's piece directly; instead, he posted several readers' comments that did so. Like many of these guys, he gets his minions followers to do his dirty work. Then he can hold up his clean hands and claim he is only promoting "freeze peach." Cuz that's how hypocrites roll...
Anyway, not to belabor my own story, but all this is in keeping with his recent behavior regarding Rebecca Vipond Brink. Brink writes short, breezy, irreverent pieces for The Frisky, XOJane, and other sites that appeal to young women. Taking umbrage with a piece in which she wrote about dating-while-not-yet-legally-divorced,* he decided to "slut shame" her big-time, and his fan-boys obliged by trawling the internet for any smidgen of dirt personal information about Brink they could dig up and post to his comments feed. The frenzy of comments are vile, obscene, and, well, not exactly "Christian." But hey, Dalrock has a moral duty to subject such harlots to an improving session of "shaming," doesn't he?
The manosphere is all about "slut-shaming" because it's all about "sour grapes." If these men cannot possess a beautiful, intelligent, sexually autonomous young woman for themselves, they can sure as hell try to tarnish her reputation. It's standard, textbook abusive behavior, in other words.
Although "slut-shaming" is a pathetically transparent way that socially impotent men vent their frustration, and Ms. Brink hardly needs anyone to rescue her from being "slimed" on the Internet, it needs to be called out when we see it. I've had a long lifetime of watching men (and plenty of other women) "slut-shame" girls for the "crime" of being sexually autonomous beings: I'm sick of this shit!
Fortunately, the volley of verbal assaults against Brink did not go unnoticed; a small campaign was launched by Adam Lee aka The Daylight Atheist asking that Dalrock's Wordpress site be reported for abuse. Lee admits he didn't expect Wordpress to take any real action, but wanted to send a message that bullies will be socially sanctioned.
Dalrock responded with a self-righteous, pearl-clutching post the other day in which he claimed that it was Dalrock himself -- that fine upstanding Christian husband and father! -- who was being victimized by evil atheists simply because of his efforts to "promote Christian morality."
It's also amusing to note how distressed he was to be identified as "an MRA." You see, he's not an MRA himself; he's "a Christian" who just happens to have a large MRA readership. There's a world of difference. Bear that in mind while you watch the following clip from Monty Python's "Life of Brian."
Of course, my mentioning Dalrock on my blog is like throwing chum to the sharks. Like most of the manosphere bloggers, who are addicted to any attention whether positive or negative, I imagine Dalrock scours the internet on a daily basis looking for any mention of his name. Oh well, in for a penny, in for pound, I say: Bring on the flying monkeys.
------------------------------------------------------------------------------------------------------------------------
* Personally not recommended, but meh! It happens. See How to Survive Your Boyfriend's Divorce if you find yourself in this unfortunate but common situation.